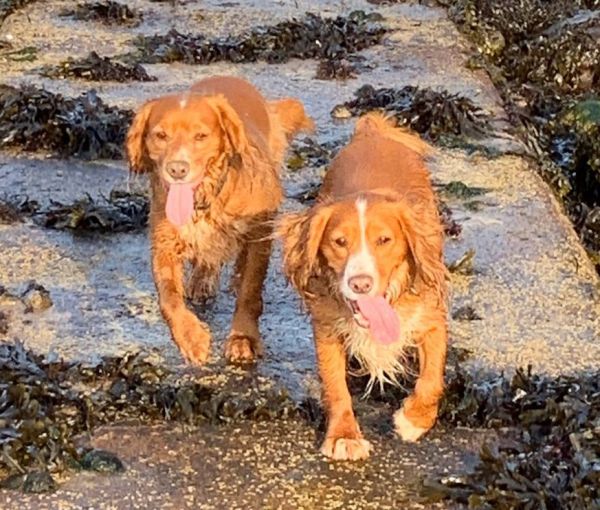 Friday 27th March was my first day of lockdown, here on the Isle of Man, and it got off to a bad start. I was running through Archallagan plantation with my cocker spaniels, Jarvis and Monty, and there was a commotion with some other dogs but it wasn't until we stopped so the boys could get a drink I noticed Monty had a wound on his back. Milan Vets said he needed an operation to sew it back up and poor old Monty was very quiet and subdued, understandable given his day.
Held a WhatsApp call with my team and worked with Grant Evans our CFO to set up Zoom for director's meetings. Completed a test call and it all worked well.
The day ended with a delivery from Kurries and Steaks. The in-laws joined us via WhatsApp and we had some banter as we enjoyed our curries from the Kerala region where my wife Tracey's dad used to live.
The weekend came, Monty had a very brief walk which I followed with a 5km run around Port Soderick with Jarvis. I have decided all exercise is now to take place from home; luckily we live in a lovely area.
I am midway through a project in the back garden which involved removing a hedge and the next job was to repair some of the fence, DIY isn't my forte. Fifteen years of grime has been removed with the jet spray and today I started painting. Progress is slow.
I have discovered podcasts and have listened to The Missing Cryptoqueen, Manhunt: Finding Kevin Parle, Fake Heiress, That Peter Crouch and Tailenders. If you want to learn about cryptocurrency and the pitfalls of investing listen to The Missing Cryptoqueen, it is incredible how gullible people are.
Quick walk on Sunday with Monty and then four mile run with Jarvis. Back home to mow the lawn and carry on with the fence painting. Disappointed not to be meeting with my Sunday morning open water swim group in Port Erin but we all have to do our bit to keep the Island safe.
Monday and the beginning of my first full week of WFH. Started with a 10km run, Monty only did about 10 minutes but I carried on with Jarvis. My new work station is in the conservatory, where I can at least sit and admire the newly painted fence. First job of the day is a call with a client for whom we are trying to secure an investment into his business. Mid-morning and we have our first director's call on Zoom and it all worked well. Took a break to listen to a Government update – these have becomes a must to find out the latest news about the virus and the actions being implemented.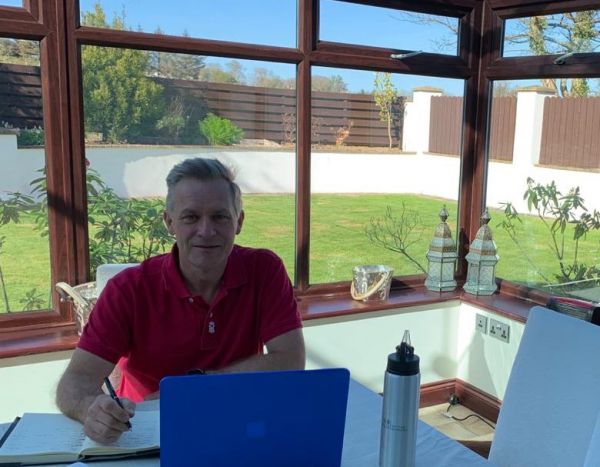 How plans change. Today (Tuesday) I was supposed to be off to London on a business trip with CEO Chris Eaton. Instead I have calls with clients in Nigeria, Hong Kong and London. Zoom, Microsoft Teams, Skype and WhatsApp are all proving to be very useful. I complete a business plan for a tier 1 entrepreneur visa application and respond to a number of new enquiries.
As I ran past the Nunnery this morning (Wednesday) I heard a man shouting for help. He was on the footpath and his hand was bleeding badly. He had been bitten by his dog, one finger was hanging off and the nail was missing off another. Another runner came along and we managed to get the dog on a lead and I waited with the guy for an ambulance to arrive.
Back at the "office" I set the team the task of setting up on Zoom and we held a meeting and catch up. I completed another business plan and then worked through lots of follow on tasks from the calls yesterday. Early evening brought the news we had all expected but didn't want to hear. The first person had died of the virus on the Island. My three months of no drinking ended today and it seemed appropriate to raise a glass to the victim on this sad day.
Thursday started with an early morning five mile road, trail and beach run with the dogs. Monty is much better. Today there are video meeting with clients in Nigeria, London and Isle of Man. The last appointment in my calendar today was to catch my flight back from London City airport.
So the first week of lockdown has been completed. In addition to the two dog incidents there have been a couple of technical issues to overcome but other than that it hasn't been too bad. I wonder how I will feel after a few weeks though. And on the plus side my fence looks good.