The money was raised through dress down days and fundraising activities and presented by Group Business Development Director, Richard MacNee to the charity's chairperson, Helen Martin and her committee colleague, Ashley Shepherd.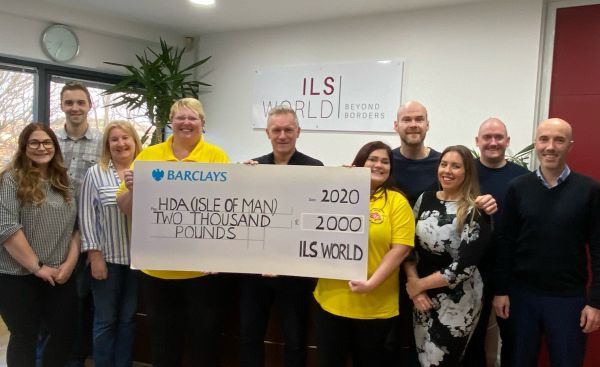 The ILS World team, which is based on the Summerhill Business Park in Douglas, all voted to support the group which was set up in 2018. Huntington's disease is caused by a faulty gene in a person's DNA and effects the nervous system causing changes to movement, learning, thinking and emotions.
Helen Martin said: "This support is wonderful news and we want to say a big thank you to everyone. This donation will help us so much in what has been a very difficult year with a lot of organised events we would have attended cancelled.
"We hope things will be back to some sort of normality next year as we would like to arrange an educational weekend for health professionals, police, care homes, dentists, dieticians and others. It is something which is much needed on the Island to increase understanding of Huntington's and this donation will be put towards paying for a group of HDA professionals in the UK to come here and provide the education and share their knowledge.
"Huntington's is the worst disease known to mankind, imagine having Motor Neurone, Parkinson's, dementia and Schizophrenia all at once. During the education weekend there will be time for HD families and carers to have time to ask questions and get professional and emotional support, something that is vital to families living with the disease."
ILS World provides independent fiduciary services to professional advisors, international corporate groups and private clients from offices in the Isle of Man, British Virgin Islands, Hong Kong, London and Portugal.
Mr MacNee said: "Living with and caring for a person who has Huntington's is very challenging and getting the right information and support is very important. We hope our support for the group this year will help them achieve their goals and make a positive impact to those on the Island who are effected."
Anyone who wants to find out more about Huntington's disease can visit www.hdaiom.com