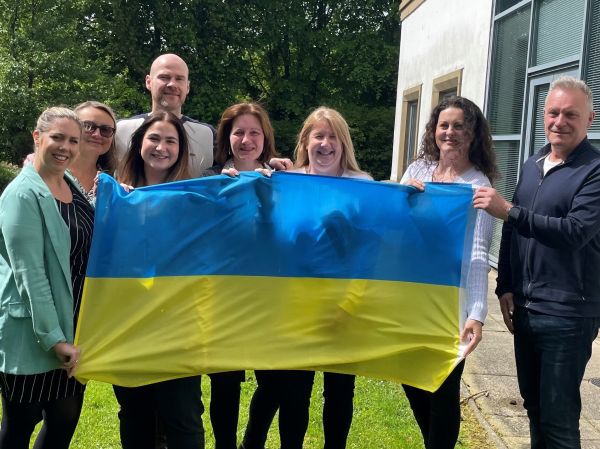 Emilia Stringer, Richard MacNee, Karen Jones, Alex Gale, Anna-Marie O'Kelly, Steven Welsh, Diane Rybij, Justin Moughtin, Gemma Davies, Grant Evans and Elena Shakirova recorded their daily steps and put their best foot forward in the evening and weekends to reach the target. As the step count went up client accountant, Daniel Hughes, showed off his photoshop skills by creating an image of the team in London, Brussels and Krakow to help motivate the walkers to keep going.
The group created a Just Giving page which raised £300 and at the company's Douglas office in Victoria Road Emma Long, Helen Duggan, Emilia Stringer and Elena Shakirova bolstered the fundraising effort by gathering £400 in return for culinary treats. To support the initiative Chairman, Chris Eaton donated £1000 and a total of £1700 has been donated to the Disasters Emergency Committee.
Chief Executive Officer Karen Jones said: "It's nearly 100 days since the start of the war in Ukraine and we have all seen the devastating consequences and terrible conditions so many have found themselves in. We all wanted to show our support and hopefully the collective contributions to the DEC Ukraine Humanitarian Appeal will make a real difference to as many people as possible."
If anyone would like to make a donation, please visit https://www.justgiving.com/fundraising/ilsworld
Pictured from left: Gemma, Elena, Emilia, Justin, Diane, Anna-Marie, Karen and Richard.