The money was raised by staff through dress down days and cake baking and was presented by chief operating officer, Karen Jones to chairperson Julie Stokes and vice chairperson Carole Male.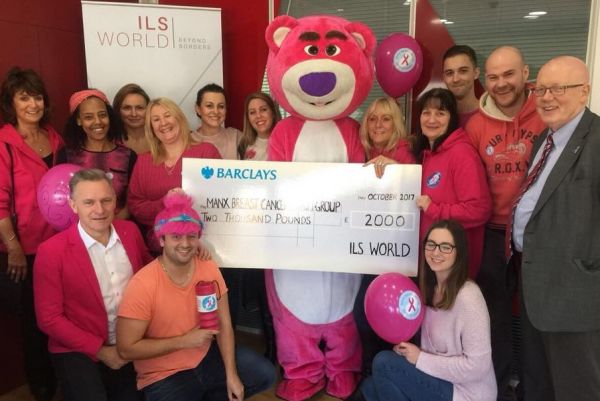 Each year staff at ILS World, which is based at Summerhill Business Park in Douglas, vote for the organisation they'd like to support for 12 months. This year there was overwhelming backing for the MBCSG which provides advice and support to breast cancer patients, their families and carers on the Isle of Man. Having successfully fundraised more than £1.8 million to build and equip a state of the art breast screening unit at Nobles Hospital, the group continues to fundraise to ensure it provides the highest levels of care.
The presentation coincided with the charity's Pink weekend which encourages the Island to dress in pink and its mascot, Booby Bear, toured the Island visiting schools and companies who took part in fundraising.
ILS World has provided independent fiduciary services to professional advisors, international corporate groups and private clients for more than 25 years. It has more than 50 people working at offices in the Isle of Man, British Virgin Islands, Hong Kong, London and Portugal.
Karen Jones said: "All of our staff have a commitment to putting something back into the community in which we live and work and each year we choose one organisation to support. Manx Breast Cancer Support Group does fantastic work. We are really lucky here on the Island as women are called for screening every two years from the age of 50 until 70 and having a dedicated unit here means patients can have their treatment promptly at home with the support of their friends and family."
To find out more about the Manx Breast Cancer Support Group or to make a donation, visit www.manxbreastcancersupportgroup.com or call 07624 484950.