The STEP Asia conference took place at the Grand Hyatt in Hong Kong on November 20-21 and attracted more than 450 practitioners from 32 worldwide jurisdictions to discuss succession issues, how to protect today's wealthy families, innovative trust provisions and the way forward for family retreats.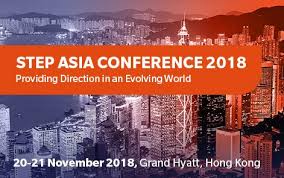 ILS World, a global provider of independent fiduciary services, regularly attends as it has a dedicated private client team who advise on private wealth, succession and estate planning, trusts and foundations, private trust companies, family offices and immigration. This year chief executive Chris Eaton, Hong Kong managing director Lilian Cheung, Client Portfolio manager in Hong Kong Queenie Lo and China managing director Cindy Cheng joined the delegates.
Speaking about the conference, Chris said: "It was a very informative schedule packed once again with a variety of detailed briefings, thought provoking presentations and panel discussions.
"Our private clients often require an international strategy and as a global business with offices in a number of key jurisdictions we are well placed to provide a cohesive service. This event helps us to keep on top of new developments, reforms and opportunities that we will be able to pass back to our clients."
The ILS private client team has a proven track record and consist of committed and qualified specialists. They work hard to create long-term relationships and provide the highest level of service by being approachable, flexible and pragmatic. The team offer regular face-to-face meetings and provide direct contact with senior members of the team.