Staff from international fiduciary, ILS World, whose headquarters are in Victoria Road, Douglas, have given the castle in their grounds a clean and a new coat of paint.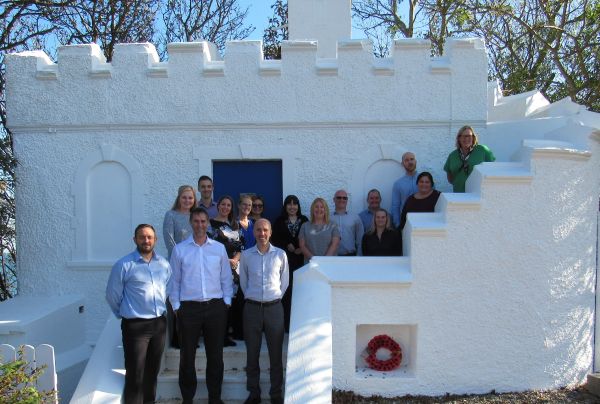 Group business development director, Richard MacNee said: "This unique building is home to the HMS St George memorial and as this year is the 80th anniversary of the start of the Second World War we thought it important the building looked its best. The brass plate is engraved with a St George emblem and the inscription reads, In memory of those of HMS St George who were trained in the Isle of Man and who gave their lives during the Second War 1939-1945.
"As part of our CSR commitment we all felt this historic building, which is owned by Shoprite and who gave us permission to carry out the work, should look as good as it can. Staff volunteered to carry out the painting and we all really enjoyed working together to make a difference. We are particularly grateful to Jewson in Ramsey who donated and erected the scaffolding we needed."
The castle was built in 1907 as part of Cunningham's holiday camp which was capable of housing 4000 men in more than 1500 tents. Inside the building was a washroom and outside a spiral staircase remains leading to a turret that originally housed a searchlight that shone on Douglas Bay.
In September 1914 the camp was requisitioned by the Manx government as an internment camp for enemy aliens. At one point there were 3,300 inmates which led to complaints of overcrowding culminating in a riot and the death of six internees, who were shot by the guards.
After the First World War I the camp prospered and by 1934 a dining hall had been added which could seat 3,600 people at any one time. A concert hall, an eight table billiard room, a nine acre sports field, a 90ft heated swimming pool, 12 lawn tennis courts, a nine-hole golf course were all added.
The camp was requisitioned again and HMS St George, a training facility for the Royal Navy, opened in September 1939. A staff of more than 300 officers provided cadets with practical and technical training and during the course of the Second World War 8,677 cadets passed their training at HMS St George, before it closed on December 20 1945. After the war the Cunningham family felt unable to restore the camp business and was sold and buildings were demolished.