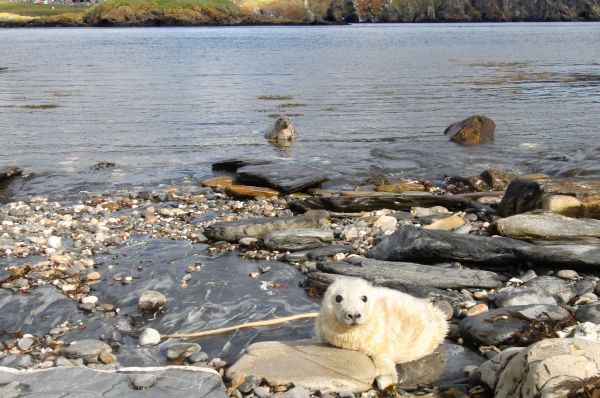 There is a real commitment to celebrating and maintaining the Island's unique environment, both on land and in the seas surrounding it. It is the only entire nation to be awarded UNESCO Biosphere status, making it a truly unique location to both live and work.
The Isle of Man is a hotspot for basking sharks, the second largest fish in the world and although they can grow to more than 10 metres long and weigh as much as 7 tonnes, they are known as gentle giants. They feed on tiny animal plankton which they sieve out of the water by swimming through it with their vast mouths wide open. In the summer, the plankton comes to the surface, followed by the sharks, which appear to be 'basking' in the sun, hence their name.
The Manx Wildlife Trust is responsible for the maintenance of 24 nature reserves across the Island, eight of which are open to the public. The Trust has a dedicated marine environment team collecting information on basking sharks and marine mammals including a large grey seal breeding colony on the Calf of Man, a small islet off the south of the Island. Another local group, Manx Whale & Dolphin Watch, carry out important research of whales, dolphins and porpoises that live on the coastline.
Many families with young children enjoy wallaby watching - wild wallabies have flourished on the Island after a pair escaped in the 1970s from the Curraghs Wildlife Park, which is now home to a large collection of animals including big cats, birds of prey, primates, Meerkats and Penguins. It is thought there are now more than 100 wallabies and their numbers have increased due to lack of predators and competitors.
According to legend, St Patrick banished toads and snakes from the Island and you won't find any to this day. Also notable by their absence are voles, badgers, squirrels and foxes. By way of compensation the Isle of Man can claim two particularly unusual four-legged inhabitants - one is the famous Manx cat, which is tailless and the other is the Loaghtan sheep, which has four horns and a rich brown fleece, thought to have been introduced by the Vikings.
The Island attracts a rich and diverse range of bird species including the Chough, Little Tern, Purple Sandpiper, Hen Harrier, Raven, Peregrine Falcons and the Manx Shearwater. A few of the more spectacular cliffs have Kittiwake and Guillemot colonies, while there is a good scatter of places where Black Guillemots nest and Stonechats are common on the gorse and bramble scrub.
For those who enjoy open spaces there are 18 mountain and coastal national glens across the Island which are maintained in a semi-natural state and open to the public throughout the year. There are also many forests and plantations to explore. Traditionally they have been popular with walkers and dog owners but they are now being developed to suit horse riding and mountain biking with many plantations featuring cycle trails, ranging from gravel forest tracks to purpose built single trails.
The Isle of Man benefits from a temperate climate with warm summers and mild winters. Due to the proximity of the Gulf Stream, the Island doesn't suffer from extreme swings in temperature, with a similar climate to that of Ireland or the Lake District in England.
ILS World has helped many international individuals and their families on all aspects of immigration.
Our hard-working specialists give comprehensive guidance for all categories of visas and work permits. We understand and are experienced at dealing with the complex issues surrounding immigration and have the knowledge and expertise to guide you through the process in the shortest possible time and with the least amount of stress.
If you are considering applying for a second residency or passport under any investor programme there are many factors to take into account. ILS World can guide clients through the best available programmes in order to determine which one will suit each individual and family.
We assist with the whole process from the initial visa application, passport assistance, to the preparation and/or review of business plans, investment support, incorporating a company together with legal help for applications, leave to remain and indefinite leave to remain issues.
The team has successfully assisted clients from Europe, UAE, Africa, Hong Kong, India and China.
Find out more about Immigation or to discuss relocation and Isle of Man visas contact Richard MacNee at richard.macnee@ils-world.com
To keep up to date follow us on LinkedIn.