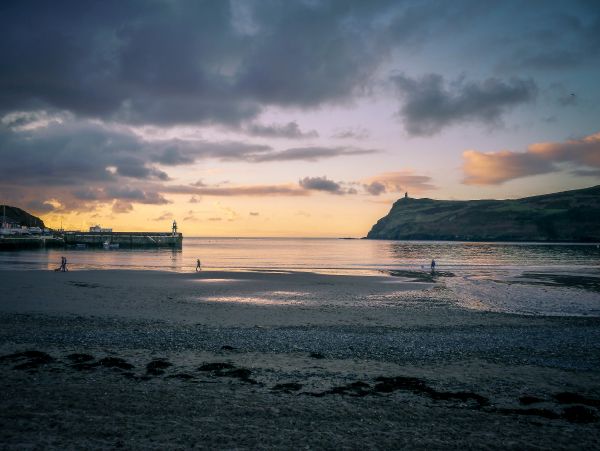 A survey of expats in 2019 by HSBC ranked the Isle of Man as the best place to live in the British Isles and the 12th best in the world. The 2019 police chief's annual report revealed the Island has the lowest number of recorded crimes in the British Isles.
The Island appeals to people who are looking for a better quality of life. More than 40 per cent of the Island is uninhabited, there is 227sq miles of stunning countryside and 32 unspoilt beaches to discover, alongside 26 official 'Dark Skies' sites - the highest concentration of stargazing spots in the British Isles.
The Island is a UNESCO Biosphere, which is a marque given by the United Nations as a sign of international recognition to a specified area. There are 701 biosphere reserves in 124 countries but the Isle of Man is the only entire nation to be awarded such a credit.
New residents are able to enjoy the strong sense of culture, heritage and national identity. There are many properties with house names in Manx Gaelic, a language which has experienced a revival recently. The Island is well known for its warm welcome and has a blended community with 50 per cent of residents born off the Island.
There is a diverse property portfolio ranging from modern, sea view apartments and traditional Manx stone cottages to country mansions in sizeable grounds. Average house prices are around £300,000 and there are no restrictions on purchasing property and no stamp duty. Each of the Island's unique towns and villages has its own individual character with average commute times 20 minutes. On the commercial side, everything from residential units in high footfall areas to corporate headquarters are available.
There are more than 200 flights a week from Ronaldsway Airport to the UK's major cities including to Gatwick, London City, Manchester and Liverpool as well as a number of daily ferries crossing to the North West of England and Ireland. For those travelling by private jet there is a private terminal with executive lounges, crew rooms and aircraft handling. The Private Jet Centre is also able to assist with private charters for aircraft of varying sizes and configurations. The Isle of Man also has an abundance of helipads with a number of residents frequently travelling to and from the Island by helicopter.
Although world famous for its annual motorsport events, the Isle of Man has a thriving sporting scene away from the race course.
Having inspired a good number of champions, including Mark Cavendish and Peter Kennaugh, cycling attracts many from all age groups. The annual IOM End2End Mountain Bike Challenge is a chance to ride from one end of a country to the other whilst conquering some sizeable peaks along the way. The 75km course incorporates 1500 metres of climbing on a mixture of fast roads, moorland paths, country lands and forest tracks.
With 95 miles of coastline sailing, kayaking, open water swimming and paddle boarding are all popular. The Island has nine challenging golf courses ranging from a classic course on a stunning peninsula, an 18-hole course designed by five-time Open Championship winner James Braid and a course designed by Dr Alexander (Alister) MacKenzie, the architect of the Augusta National in Atlanta and Australia's Royal Melbourne.
The Island hosts two Crown Green Bowling Festivals each year, an annual International Darts Festival and the wacky World Tin Bath Championships is a sight not to be missed.
Due to its varied landscape, the Island is a walkers' paradise, with more than 169 miles of public footpaths. Visitors have come from all over the world to travel the Raad Ny Foillan (English: 'Way of the Gull'), a 102 mile coastal path skirting the Manx coastline. Thousands of people take part in Parish Walk, an annual endurance walking race who route passes through all of the Island's 17 parishes, covering a total distance of 85 miles.
The Island's beautiful countryside and 600 miles of roads means driving is often leisurely. You'll rarely find yourself in a traffic jam and may even find you have the road to yourself. You can reach any point on the Isle of Man within a 90 minute drive and many areas are zoned for free parking. The Island also has an extensive bus network connecting attractions, towns and villages with a late night service operating on Friday and Saturday evenings.
While the Isle of Man may be sat in the middle of the Irish Sea, it does not suffer from being out of the loop. There is an excellent internet network, with speeds up to 80Mbps download and 10Mbps upload. There have been huge investments in fibre optic technology and improved services for customers from the Island's telecoms service providers.
ILS World has helped many international individuals and their families on all aspects of immigration.
Our hard-working specialists give comprehensive guidance for all categories of visas and work permits. We understand and are experienced at dealing with the complex issues surrounding immigration and have the knowledge and expertise to guide you through the process in the shortest possible time and with the least amount of stress.
If you are considering applying for a second residency or passport under any investor programme there are many factors to take into account. ILS World can guide clients through the best available programmes in order to determine which one will suit each individual and family.
We assist with the whole process from the initial visa application, passport assistance, to the preparation and/or review of business plans, investment support, incorporating a company together with legal help for applications, leave to remain and indefinite leave to remain issues.
The team has successfully assisted clients from Europe, UAE, Africa, Hong Kong, India and China.
Find out more about Immigation or to discuss relocation and Isle of Man visas contact Richard MacNee at richard.macnee@ils-world.com
To keep up to date follow us on LinkedIn.