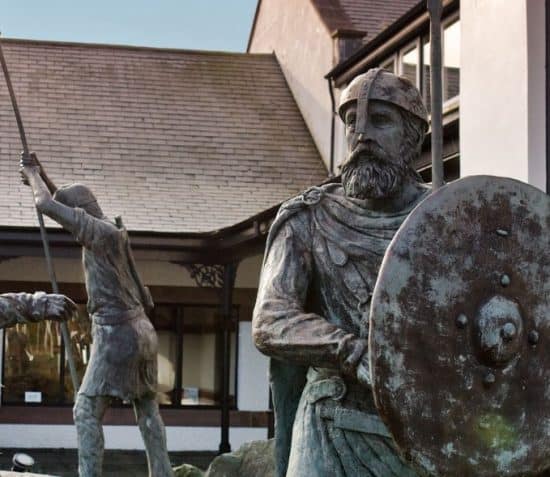 Residents benefit from a rich Viking and Celtic heritage. Peel Castle was built by the Vikings in the 11th century and Castle Rushen is one of the most well-preserved medieval castles in the world. Manx Heritage, a government funded organisation, protects and promotes the Island's many interesting museums and tourist attractions.
The Island's motor racing history is famous around the world - the TT (Tourist Trophy) is the greatest motorbike challenge. It takes place on public roads, with no speed restrictions. One lap is 37.73 miles and includes a mountain and a seemingly never-ending series of bends. First held in 1907 it attracts thousands of spectators wanting to lap up the passion, competition and danger.
Residents and tourists take great delight in the Isle of Man's three heritage railways – the Manx Electric Railway, a Steam Railway and the Snaefell Mountain Railway. They are all seasonal and do not normally operate during commuting hours but they are a fun and popular way to sightsee. In the Island's capital the Douglas Bay Horse Tramway is the oldest horse-drawn passenger tramway to remain in service anywhere in the world. Established in 1876 it runs along the seafront promenade for 1.6 miles and is a distinctive tourist attraction.
Those who are lucky enough to call the Isle of Man home enjoy some award winning cuisine. There are more than 192 restaurants, cafes, street-food vendors and pop-ups and whether you're in the mood for a romantic French bistro or a modern, fusion menu you will be able to find something to tickle your taste buds. Popular dishes include sweet and tender Manx Queen Scallops caught by local fisherman off the Island's coastline. The Isle of Man Creamery has won many accolades for its fine cheeses and Manx Loaghtan, a native rare breed of sheep, is a favourite of chefs. Manx Kippers, fished, cured and served on the island since the 1500s are also popular.
The Isle of Man has four independent breweries as well as exclusive gin and vodka distilleries which can all be sampled in the Island's numerous pubs and cocktail bars.
Highlights of Island life include:
• A wide selection of restaurants, pubs and cocktail bars
• A variety of leisure facilities
• A premier entertainment complex hosting A-list artists and comedians
• Beauty spas, health clubs, hotels and a casino
• Breath-taking scenery offering many leisure activities.
ILS World has helped many international individuals and their families on all aspects of immigration.
Our hard-working specialists give comprehensive guidance for all categories of visas and work permits. We understand and are experienced at dealing with the complex issues surrounding immigration and have the knowledge and expertise to guide you through the process in the shortest possible time and with the least amount of stress.
If you are considering applying for a second residency or passport under any investor programme there are many factors to take into account. ILS World can guide clients through the best available programmes in order to determine which one will suit each individual and family.
We assist with the whole process from the initial visa application, passport assistance, to the preparation and/or review of business plans, investment support, incorporating a company together with legal help for applications, leave to remain and indefinite leave to remain issues.
The team has successfully assisted clients from Europe, UAE, Africa, Hong Kong, India and China.
Find out more about Immigation or to discuss relocation and Isle of Man visas contact Richard MacNee at richard.macnee@ils-world.com
Keep up to date by following us on LinkedIn.